Article successfully added.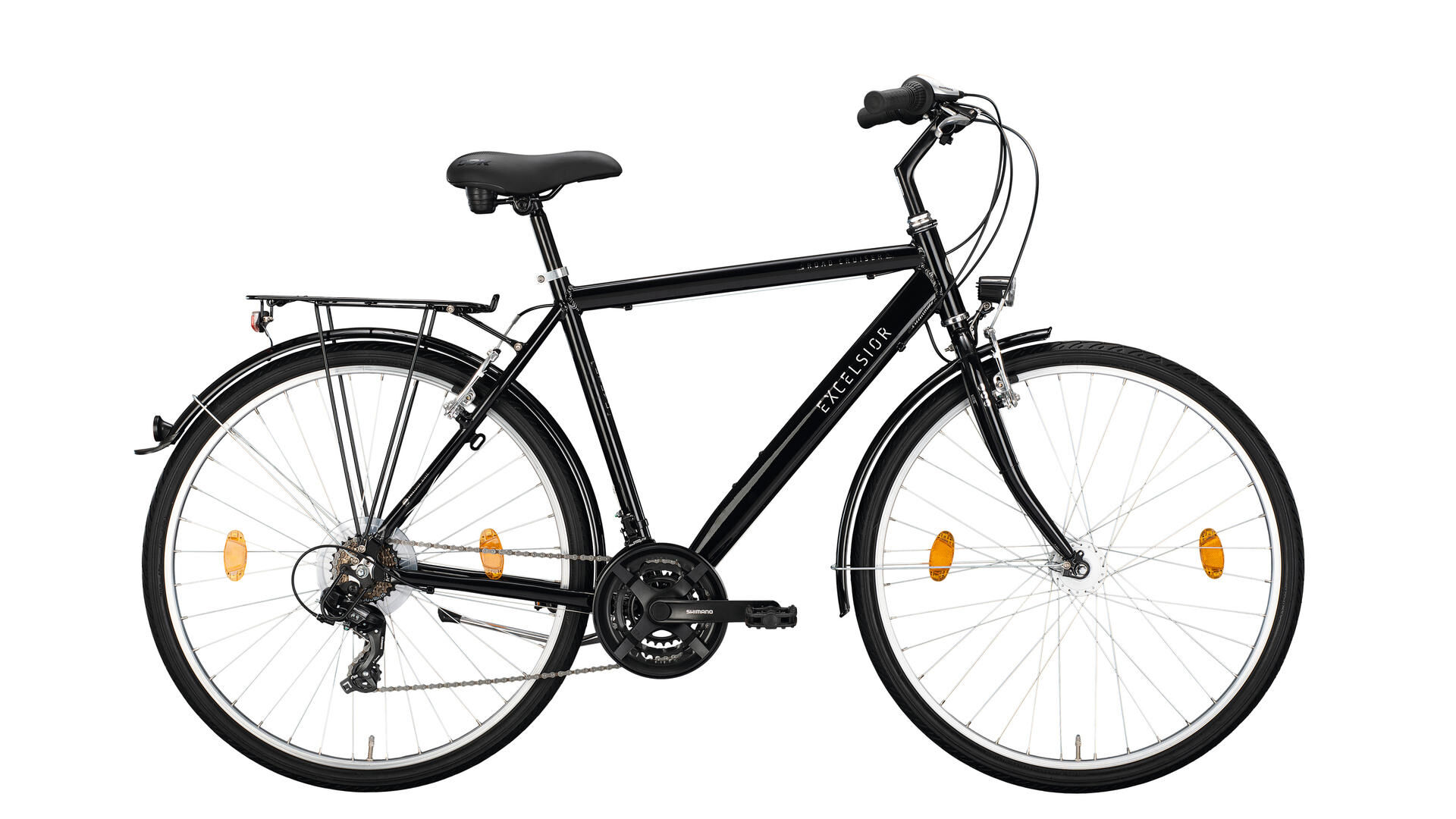 "Road Cruiser 21 Alu ND gents"
If you have a lot of demands on your bike, it's best to take an allrounder: the "Road Cruiser Alu ND" from EXCELSIOR is one such bike. With its 21-speed derailleur gears, the trekking bike performs wonderfully on tours and relaxed trips to the shops.

The fun of cycling is completely in the foreground, once the bike also fulfills its practical purpose. Whether frequent riders, touring enthusiasts, Sunday riders, commuters or typical city bikers, they all get along well with the "Road Cruiser" from EXCELSIOR. Among other things, thanks to full equipment and sporty derailleur, this bike does not let you down so quickly. So nothing stands in the way of fun.

By the way, the 21-speed derailleur comes from the proven good manufacturer SHIMANO. The frame is made of aluminum, which contributes to the quite low weight of 16.1kg for a fully equipped bike. Meanwhile, decelerated with a V-brake.

Of course, riding comfort is also important. This is already not too tight with the quietly rolling 28" wheels. Meanwhile, the elastomer-equipped city saddle is very comfortable.
There are also practical things like an aluminum kickstand and a generous luggage rack.

In summary, the "Road Cruiser Alu ND" from EXCELSIOR is a lot of fun at a fair price, especially on tours. The sporty derailleur always provides the right gear ratio, while the large wheels ensure smooth running. There are very different demands that the "Road Cruiser" combines into a coherent overall concept.
Spezifikationen "EXCELSIOR Road Cruiser 21 Alu ND gents (2023)"
| | |
| --- | --- |
| Frame: | Alu |
| Fork: | Unicrown |
| Crank set: | Alu/Stahl |
| Crank arm: | 170 mm |
| Chain ring / belt ring: | 28/38/48 Z. |
| Bottom Bracket: | BSA 122,5 mm |
| Brakes: | V-Brake |
| Brake lever: | V-Brake |
| Shifting lever: | SHIMANO "Tourney SL-RS43" |
| Front derailleur: | SHIMANO |
| Rear derailleur: | SHIMANO "RD-TX35" |
| Cassette / belt sprocket: | SHIMANO, 14-28 Z. |
| Chain / belt: | SRAM "PC10" |
| Rims: | Kastenfelge, Alu, 19-622 |
| Spokes: | Zink |
| Front hub: | SHIMANO Nabendynamo "DH-C3000-3N-NT" |
| Rear hub: | Alu Parallax |
| Front tires: | VEE RUBBER, 42-622 |
| Rear tires: | VEE RUBBER, 42-622 |
| Handle bar: | Stahl |
| Stem: | Eagle |
| Saddle: | City, mit Elastomer |
| Seat post: | Kerze, Ø 27,2 mm, Stahl |
| Mud Guards: | Stahl, mit Spoiler |
| Carrier: | Stahl, 2-strebig, mit Federklappe |
| Dynamo: | SHIMANO Nabendynamo "DH-C3000-3N-NT" |
| Front light: | LED, 30 Lux |
| Tail light: | CONTEC "TL-127", Standlicht |
| Kickstand: | Seitenständer, Alu |
| Pedals: | UNION "SP-877" |
Technical data
| | |
| --- | --- |
| Category: | trekking bike |
| E-bike: | no |
| Sex: | gents |
| Frame shape: | diamond |
| Frame height: | 55 cm |
| Wheel size: | 28" |
| Drive: | chain drive |
| Shifting type: | derailleur |
| Gears: | 21-speed |
| Transmission: | 3x 7-fach |
| Circuit brand: | Shimano |
| Shifting model: | TY300 |
| Brake system: | rim brake |
| Features: | hub dynamo, fender |
| Permissible total weight: | 120 kg |
| Material: | aluminium |
| Colour: | black |
| Colour designation: | black |
| Weight: | 16,90 kg |
| EAN | 4251507950121 |